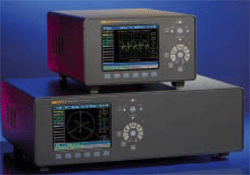 Compact Fluke Norma Series power analyzers include the latest power measurement technology to assist engineers working with motors, inverters, lighting, power supplies, transformers and automotive components in making their products more efficient.

Based on a patented high-bandwidth architecture, Fluke Norma Series power analyzers deliver precise measurements of single or threephase current and voltage, harmonics analysis, Fast Fourier Transformation (FFT) analysis, as well as calculations of power and other derived values. They provide class-leading accuracy and common mode rejection for any waveform, frequency, or phase shift.

Fluke Norma 4000:
Ideal for field testing, the Fluke Norma 4000 power analyzer offers easy and straight-forward operation. Features include: 1 to 3 power phases, 5.7" / 144 mm color display, harmonic analysis, FFT analysis, scope mode, vector diagram display, recorder function, Fluke NormaView PC software, and 4 MB RAM data memory.

Fluke Norma 5000:
Providing the highest bandwidth on the market, the Fluke Norma 5000 power analyzer is the ideal test and analysis tool for the development of frequency converters and lighting equipment. Features include: 1 to 6 power phases, optional internal printer, and all of the features and functionality of the Fluke Norma 4000 power analyzer described above.
• Compact, high precision power analyzers – easy to carry and save working space.
• Simple user interface ensures easy, intuitive operation.
• Standard configurations allow users to specify the exact functionality required for their own unique application.
• Accurately display dynamic events on all phases at exactly the same point in time with simultaneous parallel acquisition of all phases.
• All inputs are galvanically isolated to avoid short circuits in all applications.
• Voltage, current and power harmonics up to the 40th.
• FFT analysis, vector diagram display, recorder function and Digital Oscilloscope (DSO) mode included.
• User-selectable average time – from 15 ms up to 3600 s – for dynamic measurements.
• 4 MB on-board memory for storage of measured values.
• RS232 and USB available as standard; optional IEEE 488/Ethernet available.
• Optional process interface available to measure torque and speed with external sensors; includes four analog outputs for easy use on motor and drive applications.
• 341 kHz or 1 MHz sample rates for detailed signal analysis.
• Bandwidth from dc to 3 MHz / 10 MHz for reliable measurement precision.
• Includes Fluke NormaView PC software for setup, data download, analysis & report writing.

Click here for Spec Sheet (PDF)

Call for SPECIAL Factory Promotion Rebate Pricing!



*FREE* UPS DELIVERY!


Sales Line: (410) 472-2416
Fax: (410) 472-4652
Email: sales@tomwblack.com
Electric motors
Complete measurements of both electrical and mechanical power values with an uncertainty of only 0.1%. Through detailed spectrum analysis and dynamic torque calculation capabilities, switching losses caused by the inverter are accurately measured, and a thorough evaluation is made of torque transients and harmonics at higher frequencies.

Inverter drive systems
Simultaneous measurement of all electrical and mechanical power parameters in the same time window enables users to observe the influence one component has on another, or on the whole system.

Lighting systems
Unique bandwidth of up to 10 MHz and a high sampling rate up to 1 MHz provide detailed signal analysis at ballast outputs. A unique shunt technology enables power measurements at very high frequencies. Simultaneous measurement of input and output power provides instant calculation of ballast losses.

Transformers
Synchronous six-phase power measurements enable highly accurate efficiency and loss calculations of large power transformers even at very low power factors. Synchronous multiphase resistance measurements are also possible of transformer coils. The internal formula editor enables voltage ratio calculations, and the combination of high-precision fundamental values and wide bandwidth provides detailed harmonics analysis.